Mobile application development Services
Mobile development services is for all businesses, large and small. We build native mobile applications for iOS and Android systems. As a result, you'll increase loyalty and gain a competitive advantage.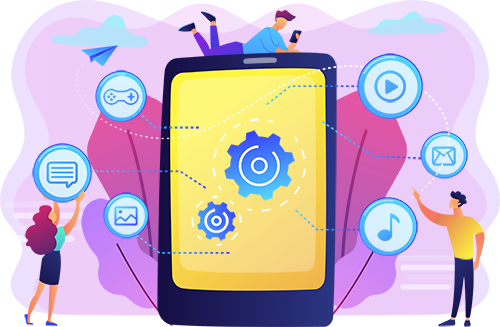 Your mobile app development company in San Antonio!
Our experts design custom solutions no matter your needs. Loyalty programs, eCommerce, and login portals are common requests. First, we conduct a project analyses before beginning. Then we focus on UI / UX design, custom features, and security. We're with you every step of the way! From creation to publication in the Apple App Store or Google Play Store. Our mobile application development services give you the power of a mobile app.
Benefits of mobile application Development Services
Mobile application development service
IOS

Native Application Development
Apple iOS is the second most popular operating system. It is the software that operates most of Apple's mobile products. CBK creates iPhone and iPad apps and publishes them to the App Store.
iOS mobile app development services require iOS programming languages. Hence, you need to hire an expert who knows the iOS code and tools.
android Native Application Development
Android, the most used operating system in the world, has 70% market share. Therefore, most of your customers are likely using Android. An Android mobile app gives your company an edge over competitors.
Our Android app developers use languages including Java and Kotlin.
Development Services for Web-Based Applications
Using the latest technology, we create web-based mobile apps. This software embeds a website into a native app. In short, hybrid apps combine mobile technology and web architecture.
Offline ability, responsive design, and CMS are key advantages.
" Kasey is very knowledgeable and an expert at what she does. She has a very professional touch and is very creative. I highly recommend CBK Digital Marketing. This company outranks any company I have ever used for Digital Marketing and SEO by far. Kasey and CBK Digital Marketing is an excellent business resource. They far exceeded my expectations with Quality and Creative work. Thank you!! "
Why develop an
App with us?
Browse more digital marketing services to boost your business!
Start With A Free Consultation
This No-Obligation Consultation Includes: