Social Media Marketing services
We create and expertly manage the social networks of your company. From Facebook, Instagram, Twitter, LinkedIn to the content on your YouTube channel.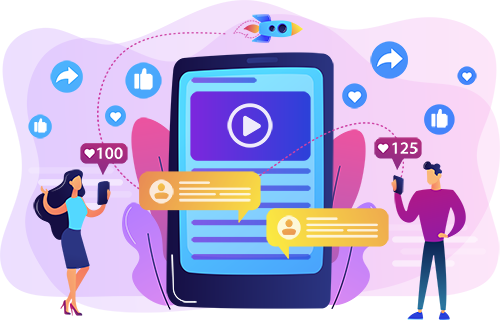 Learn about our social media management service for your company
Social Media Marketing is one of the most powerful forms of Digital Marketing, designed to improve your brand's visibility, increase engagement and improve your ROI. Without a doubt, one of the most effective ways to achieve your goals is to create an excellent strategy and management of Social Networks. Get to know our social media management service for companies
Creation Of Social Profiles
We identify which social networks are important for your business and set up those networks to present your brand in the best possible way. This ensures your users and followers perceive your social presence as dynamic and fresh and want to interact with it.
Content creation for
social networks
We devise a Social Media strategy tailored to your company, taking into account the type of content, formats and media that will bring you the greatest benefits and results.
In addition, we assign a professional in charge (community manager) to manage, create and moderate the actions of your digital community.
Advertising on
Facebook Ads
One of the key points of a social media strategy is the creation of Facebook and Instagram ads. These give you visibility, drive conversions, and promote your product or service.
At CBK, we have experience in managing social media ads for B2B as well as B2C companies. We focus on conversion-driving objectives such as obtaining new leads or driving traffic to your website or landing page.
We monitor your brand on social media to find out what people are saying about your brand, products or services.
The daily work in RRSS generates data that must be monitored to draw conclusions on the management being carried out. This way we know if the objectives are being met or if it is necessary to make a change in strategy.
How do we carry out the Strategy in Social Networks?
CBK Digital Marketing is a full-service social media management agency. We follow a series of steps that will ensure we are on the right track to grow your following, boost engagement, and product tangible results.
We devise A strategy in Social Networks
We define your buyer persona, investigate your competition and create a strategy that adds value to your company.
We identify social networks
With the established strategy, we will identify the networks in which your business would see the most benefits and results.
We manage content on social networks
We create quality content that is aligned with the needs and interests of your target audience.
We measure and analyze the results
We report periodically (weekly and biweekly) the performance of the publications and actions carried out on your social networks.
" Kasey is very knowledgeable and an expert at what she does. She has a very professional touch and is very creative. I highly recommend CBK Digital Marketing. This company outranks any company I have ever used for Digital Marketing and SEO by far. Kasey and CBK Digital Marketing is an excellent business resource. They far exceeded my expectations with Quality and Creative work. Thank you!! "
What are the benefits of social media marketing?
For startups, small local companies
For medium companies looking to grow
For medium to large companies looking to grow, optimize, and scale
Our Agency offers other services that can help you create or boost your business.
Development of personalized sites using the most popular tools and technologies on the internet
If you have any questions about this service or want to ask us any other questions, do not hesitate to contact us.