We've all been there. You're in a new neighborhood and need a caffeine boost. You pull out your smartphone and type in "coffee shops near me." Google shows you a list of coffee joints near you. But you notice something – a map shows in the search results with 3 featured spots. Why is that? And how can your business get there?
Local SEO is about ranking higher within your geographic area. It is a way to improve your ranking in your area. This could be through search engines, map apps, or even voice search. It's also how you can be in the Google 3-Pack, mentioned above. It benefits businesses such as restaurants and service providers. If you sell products or services in your area, you need Local SEO. Make sure your customers and prospects can find you, wherever they're searching.
"Ranking" refers to your numbered position on a Search Engine Results Page (SERP). Of course, you want to rank as high as possible. Average click-through rates decrease by more than 50% after the first page of Google.
How Ranking Works And How Local SEO Relates
If you search for "food" in a search bar, the top search results will show for that query. Food.com is the top result when searching for the exact term "food". More results will show a result titled "30 Things to Eat in San Antonio". This is where Local SEO comes into the picture. Search engines show you local results based on your location. We can use this to our advantage.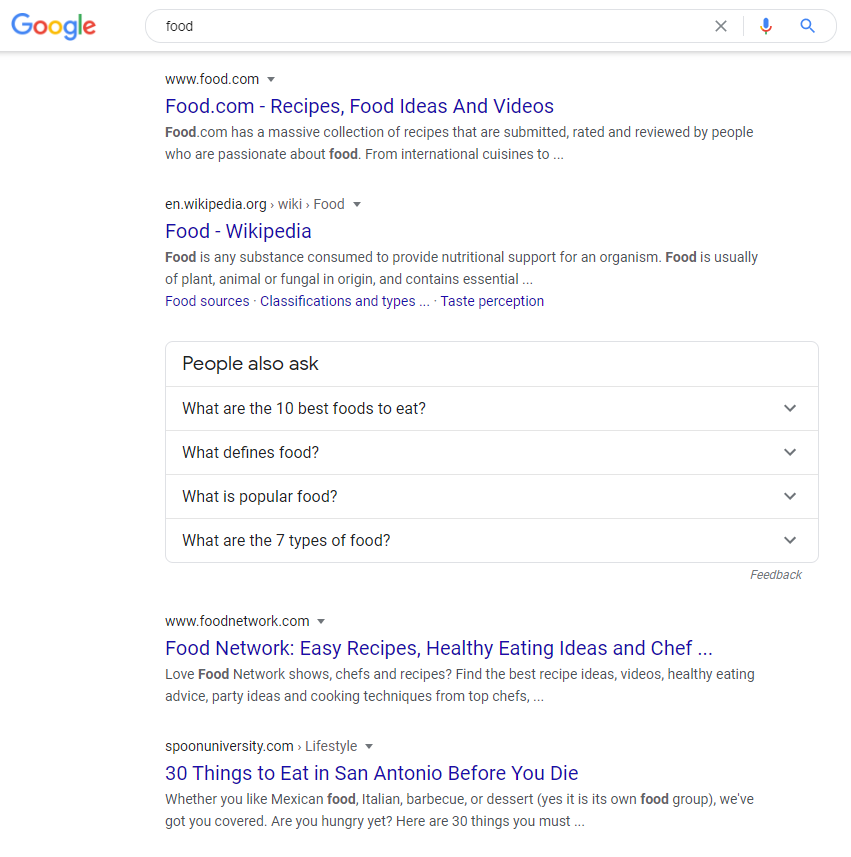 Why Your Business Needs Local SEO
Local SEO is an incredible investment in your marketing plan. The world uses the internet for everything. Local SEO allows you to reach customers when they're searching in your area. Domestic service providers can rank for local terms such as "San Antonio custom cabinets." Restaurants can rank for "best pizza near me." You'll want to send signals to Google that you're the local expert or the best in your area. Using Local SEO in your marketing strategy is the beginning. There are countless online marketing tactics to increase traffic, leads, and business. The knowledge a San Antonio marketer can share is invaluable. They will stay on top of any changes in SEO trends. Trends like a decline in Google searches from 91% to 84%. Even though it's the biggest now, companies and countries are starting to challenge Google's dominance. Google must now prompt European users of Android to select a default search engine. DuckDuckGo, a privacy-based search engine, is the other option. You can read about a Google user's switch to DuckDuckGo here. Staying current with trends will help you prepare for changes in the future. Our Local SEO team stays current with these trends. We diversify your Local SEO, taking advantage of other search engines.
Local SEO Then And Now
In the past we only had to worry about keywords and general SEO. These days, SEO has grown to several factors. On-page SEO optimizes each page of your website. Off-page SEO entails link building and domain authority. Technical SEO, part of on-page SEO, improves speed and crawlability. Local SEO involves all 3, but with a focus on geographic location. Linking from reputable local sites and consistent NAP (Name, Address, Phone) is a good start. Keywords remain necessary. However, we can no longer "stuff" as many as we can into web pages. Search engine have picked up on these "black hat" tactics and will penalize you.
Steps You Can Take Now To Optimize For Local Search
Set up a business listing on as many directories as possible. These include Google, Bing, Yelp, and local directories. Google will be our example due to its current dominance in the market. Go to business.google.com to set up your Google My Business Page. Type in your brick-and-mortar address and make sure the pin is in the right spot. Fill out your profile as complete as you can. Don't skip Category, Labels, Hours, Website, and Phone.
Bing, the second most popular search engine, has a similar setup. Make sure you list your location on your business site as well. Consistency is key. Make sure your address format and phone number are the same everywhere. This sends signals to the algorithms that your information is accurate. The more channels finding you, the better your chances of ranking.
You'll also need a list of keywords relevant to your business. First, make a list of the products or services you provide. Think like your customer: Would they have a different name for some of those? How would you search for your products/services if you were them? Also look at your customer feedback and reviews for suggestions. Second, use free keyword research tools such as Ubersuggest. These will help you start building a keyword list (try to get at least 20 to 30). These will be throughout your website, blog posts, and even social media content.
So far, we have covered what SEO is and why it is important. We covered actions you can do now to boost your Local SEO. However, there is maintenance with this level of online marketing. Each step requires up to date knowledge of current trends. You'll need basic knowledge of analytics and the appropriate tools set up. Bloggers, web page owners, and business owners have a lot to take care of. It is difficult to stay up to date, let alone making changes. SEO is the vehicle to get to the online market your business hasn't reached. Every vehicle needs a driver.
Local SEO On Your Own Vs. With An Expert
The biggest drawback of Local SEO is that it is a huge undertaking. Changing information on your website is one thing. Another is listing your business on 50+ online directories. Then updating each when your business changes. Local SEO may not be effective for businesses without websites. In this case, a website is necessary for the full benefit. Doing this alone can be overwhelming. Our marketing agency can provide you with a search engine-friendly website. Contact us today to learn more.
Hiring a Local SEO agency is a big step forward. In fact, it's the biggest step that can be taken to reach your local market. A local marketing agency knows your audience: what, how, and who they search. We have access to data that's specific to your area. This makes for better researched and more efficient results. As a business, we understand the importance of yours to you. Our sole purpose will be to rank your site and ensure you receive qualified leads. We can also suggest marketing strategies for additional traffic.
Can San Antonio Businesses Benefit From This?
Absolutely. As San Antonio grows, so do opportunities and competition. Opportunities should find you, not your competitors. A local business needs someone familiar with the local market. A San Antonio-based agency like CBK knows the city and its market. Local SEO is only one of their many specialties. We can help you understand Local SEO and answer all your questions.